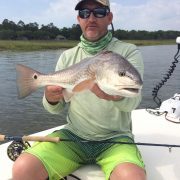 I have recently been afflicted with a passion to catch saltwater game fish on a fly rod. I've always been a freshwater trout and bass guy, but a trip to the Bahamas for bonefish got me really excited to pursue other saltwater species, especially redfish. The problem was, I didn't really know how to find them, let alone fish for them with fly tackle.
Captain Tim Carver came recommended to me by an angler friend of mine, so I decided to give him a call and give him the initial "interview". I have dealt with a lot of guides, and I won't hire one unless I have a great talk with him before booking. I want to go have fun and make new friends on the water. The catching part doesn't always happen and it's important to me to hire a guide with a great personality, is excited to put you on fish, and is somebody I feel like I could be friends with after the day is over. I felt pretty good after learning he had just finished fishing all day on his day off. A guide that doesn't fish is, well, a guide that doesn't fish. The conversation wasn't all business, but just two guys talking fishing. Needless to say, Captain Tim's interview went extremely well and I felt very good about hiring him.
Captain Tim's challenge for the day was going to be to put me on my first redfish on the fly. Upon meeting, we got on his sweet little skiff and headed out. He explained to me that it would be a day of fishing around the tides and that the fish would be in different places during the tide changes. Without going to far into it, I messed up the first couple of tries at some great reds. Captain Tim settled me down and told me to shake it off and get ready for another shot. That chance came quickly, and finally, I was hooked up on my first redfish! After a bunch of nice runs, the fish was landed, a quick picture was taken, and he was slipped back into the water to fight another day! What a great experience. Many more fish were caught that day, including some really great speckled trout, a couple of which went home with me as fresh fillets for my wife and I to enjoy.
What I really liked about my day on the water with Captain Tim was how personable, friendly, and fun he was. His knowledge of where the fish are and what they are going to be doing throughout the tidal change was exceptional. He put me right on them the whole time I was in the boat. The huge bonus was as if I was fishing with an old buddy, and that's what I want out of a guide.
All in all, Captain Tim supplied me with an unforgettable experience in so many ways. The knowledge and confidence I gained in one day would have taken years to acquire on my own. It was a great day, with a great Captain. He was just a fun person to spend a day on the water with, and that he put me on a bunch of great fish was a bonus!
Anybody looking for a great time on the water with a personable, fun, knowledgeable guide/Captain, look no farther. Captain Tim Carver of Tight Lines Unlimited is terrific. I can't say enough. Thank you Captain Tim for such a great day and such a fun time!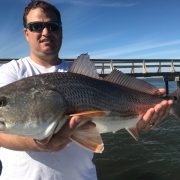 Captain Tim is professional, courteous and in the know when it comes to what's biting and where. After multiple fishing trips with Captain Tim I've come to expect nothing less than a strong bite, some great fish pics, a good laugh and an overall memorable experience. I cant wait to go fishing again!
I recently had the most enjoyable pleasure of fishing with Captain Tim Carver. Captain Tim was very helpful and knows where and how to find fish, his boat and equipment was first class. I didn't have to bring anything! I caught lots of fish reds and sea trout even on a cold windy rainy day. He even furnished fishing gloves, his price is very reasonable, l considered it a great deal for what l got fish and fun, will go again with Captain Tim. Tim is a gentleman and that alone can make a great time.
I can't say enough about Captain Tim. If anyone, no matter your skill level is looking for a guide that will put you on some fish, Tim is your man! I have had the opportunity to go out with him a few times and we always catch fish…alot of them! Tim knows where to find Redfish no matter what time of day or year it is. He has been fishing a long time and i have learned so much. He knew the ins and out of the fish and their behavior patterns. At the same time it felt like talking to an old friend making the time fly by. It was a great experience and I highly recommend Captain Tim.